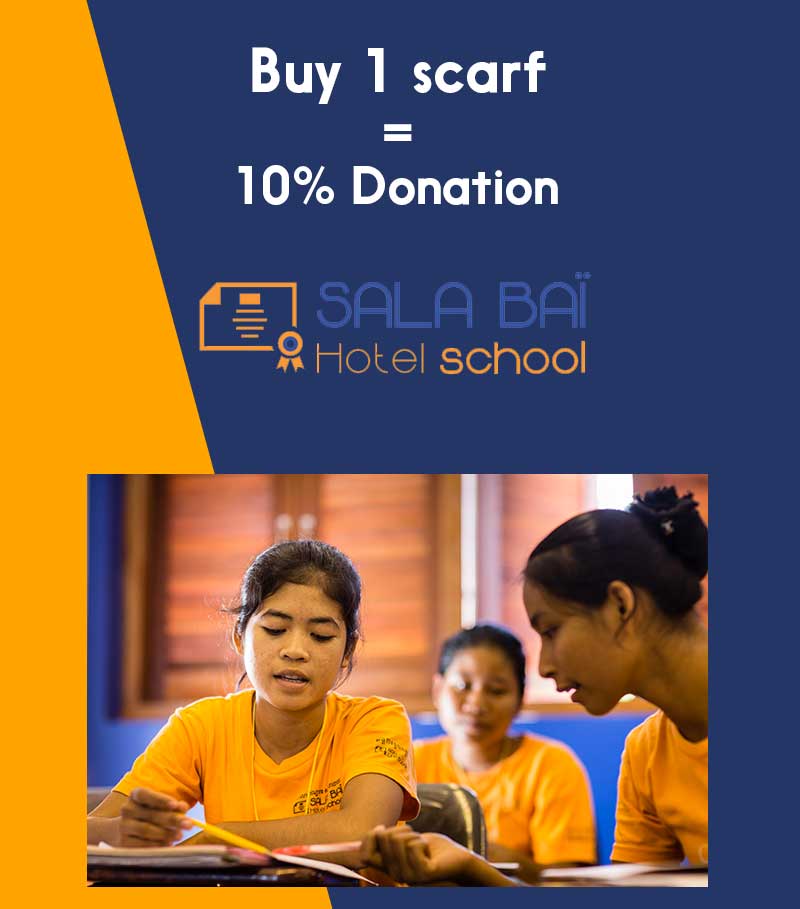 What is the Sala Baï school?
Sala Baï (which means "Rice School" in Khmer) is based in Siem Reap (Cambodia). It was created in 2002 by the French NGO Agir pour le Cambodge (Act for Cambodia) and trains each year more than 100 underprivileged young Cambodians in the hospitality industry, free of charge.
All the training fees (lessons, school supplies, books, uniforms), and daily expenses (accommodations, food, bicycle, insurance and medical expenses) for the students are supported by Sala Baï.
Objectives of this hotel school in Cambodia
The main goal of the NGO is to contribute to the reduction of poverty in Cambodia, thanks to social and professional insertion of young Cambodian.
Around 100 underprivileged young Cambodians are professionally inserted into the most economically dynamic sectors as hotel and catering sectors. The priority is given to girls (around 70% of all promotions) because of their higher vulnerability and their lesser access to education in Cambodia.
Thanks to Sala Baï School, every young students have found a job after 12 months of training, making them financially independent and able to help their families.
Collaboration between Krama Krama and Sala Bai school
For one scarf sold, we donate 5€ (around $6) to Sala baï School to contribute to fund training fees for future students (material purchase, bicycles, food…).
In collaboration with the French-Vietnamese stylist Magali An Berthon, we have designed a special Krama, at our own expenses, flying the colors of Sala Baï School.  Around 100 of these Kramas have been offered to the Sala baï School and they are now available for sale directly at the School and several partner hotels in the region of Siem Reap. You can also buy our Sala Baï Krama in our online shop.
Khatna's Journey – A Sala Baï Story