Krama: the scarf from Cambodia
Cotton and silk scarves made in our weavers' workshop in Cambodia.
Krama Krama brand collections
All of our Kramas are handmade by our partner workshop in Siem Reap – Cambodia. We are proud of the particular bond we share with them and proud to tell you that they ensure a real program for weavers and guarantees fair pay. That will undoubtedly fulfill your expectations and make you proud to wear your Cambodian scarves for a trendy look and an ethical style.
Top Selling Scarves on Krama Krama
About the Cambodian scarf: the Krama
The origins / The beginnings of Krama are unknown. It is too hard to understand how this Cambodian scarf became a real symbol over generations and a major part of the Khmer identity. Nowadays, whatever his social status may be, every Cambodian uses Krama everyday whether it is as a scarf, as a hammock for babies, or as a bandana.
So, as you can see, Krama is a symbol in Cambodia and represents its legacy. Krama Krama is engaged in continuing this legacy for generations all over the world. This is why, thanks to our partner Krama Yu, we ensure an ethical and sustainable way to produce Krama.
For more details on kramas, read the krama's history in Cambodia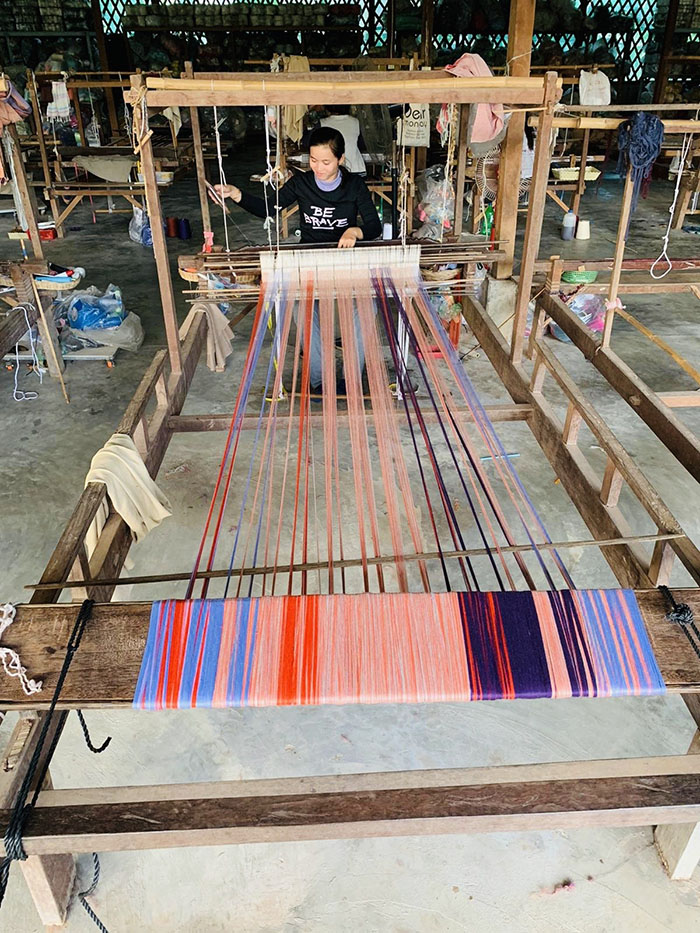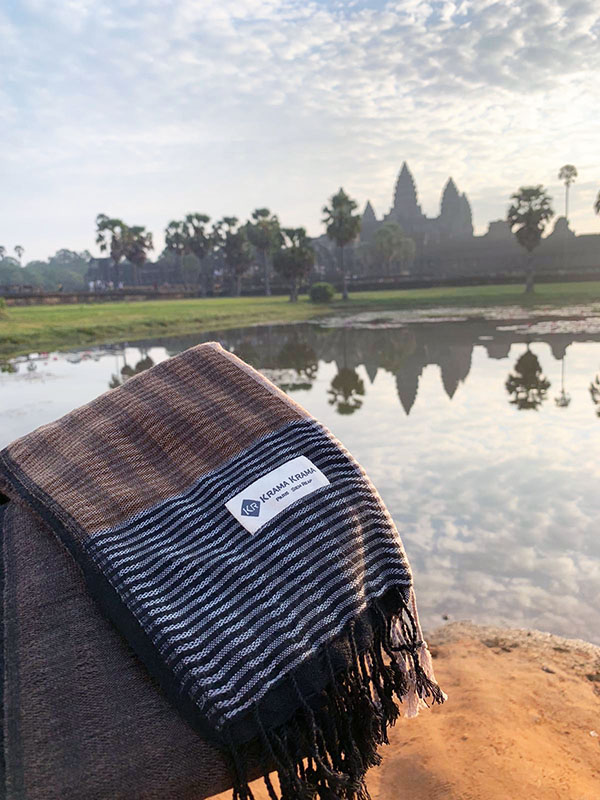 The scarf from the Kingdom of Cambodia: more than just a purchase or a social and ethical souvenir.
If you had the opportunity to travel to Cambodia, which typical souvenir could you bring home? The only right answer is: you should bring back a krama. Everyone loves this traditional cotton (or silk) scarf very much. Furthermore, if you do get the chance to travel here, try to visit small workshops as Krama Yu in Siem Reap. Usually, they are in small villages and on the outskirts of tourist cities.
Why should you have to visit these workshops? If you are going to Cambodia, do not settle for buying a krama at the market.
In reality, for most kramas, we don't know how they are made. And unfortunately, most of the time they are made in a factory (where owners are foreigners from Vietnam or China). Thus, the scarf loses both its authenticity and its quality. With prices as low as $2, workers' living conditions are not optimal.
Keep in mind that buying a krama directly at workshops gives you the opportunity to discover the different steps of garment manufacturing. That's something you won't see at the market! Moreover, it will be a pleasure for weavers to meet you and show you their know-how.
Questions/answers about our scarves
Are your Cambodian scarves really made in Cambodia?
Yes, each scarf is handmade in a workshop in Siem Reap near Angkor temples, in the north of Cambodia.
How do you help the weavers?
Our partnership with the workshop allows young women in Cambodia to receive professional training in weaving and a higher wage to meet their families' needs (30% of the workshop's weavers have at least one child and often many generations of their family live together).
Could you tell me more about the cotton and silk scarves?
We have published one page about the production of the cotton and silk scarves (the fibers, origins, technics…) which will teach you about the weaving of these two types of scarves : Weaving progress.
More questions about Krama Krama ?